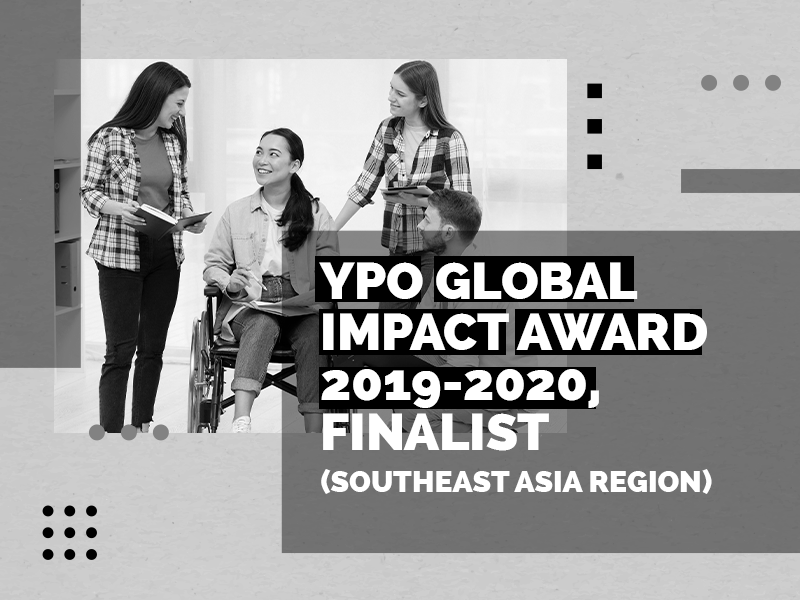 YPO Global Impact Award 2019-2020, Finalist (Southeast Asia Region)
2019-2020 YPO GIA Finalist
Thomas Ng (YPO Southeast Asia Gold At Large), Founder and Chief Executive Officer at Genashtim Innovative Learning Pte. Ltd.
Genashtim Innovative Learning Pte. Ltd. was set up in 2008 in Singapore, as a for-profit social enterprise, with the mission of "leveraging technology and the internet to connect marginalized resources to the global economy."
Genashtim started with hiring people with disabilities, and by March 2018, out of 70 employees, 90 percent were people with disabilities. Since then, Genashtim started to hire Middle Eastern refugees who were stuck in Indonesia. Today, of its 90 employees, 55 percent are people with disabilities, 30 percent are refugees and 5 percent are retirees.
Genashtim's employees work from the safety, comfort, and convenience of their homes, all over the world, including the Philippines, China, Malaysia, Vietnam, Indonesia, Macedonia, South Africa, Jamaica, Ghana and Zimbabwe. Their clients are mostly multinational companies like Microsoft, Google, Herbalife, McDonald's, Jollibee, and government institutions like MaGIC, the Malaysian Ministry of HR, Singapore Business Federation, Skills Future Singapore, Civil Service College of Singapore, Tax Academy of Singapore, and Public Utility Board of Singapore.
Thomas and his team found innovative ways to relieve "unemployable" Middle Eastern refugees who are in an unsustainable situation. They are middle-class professionals hoping to be resettled in Australia, New Zealand or North America. Instead, they were dropped in Indonesia, where it is illegal for them to work at paying jobs. Many have exhausted their resources and are desperate. Thomas is helping the refugees by hiring them as interns, which is not illegal and raising funds to create an "Adopt a Teacher Program" for refugees who volunteer to teach refugee children who do not have the rights to go to school. So far more than 50 such teachers have been adopted. Genashtim is also funding the expenses for two of these refugee learning centers, including building an additional classroom to cope with refugee children who were wait listed.

All of Thomas' efforts empower those shunned by society. By lending his gravitas to working with these groups, little by little, he is opening the eyes and minds of leaders in governments and business. His footprint may look small, he says, but the impact is deep.
Recently, Genashtim has been working with http://womanity.org, an NGO by a YPOer in Switzerland, on their Girls Can Code program for schoolgirls in Afghanistan. A number of these girls are being interned at Genashtim. Discussions have also started with an NGO in the Philippines which looks after girls rescued from the sex trade. Genashtim is setting up a shelter for these girls to be trained and to work online.
In the words of a YPO peer, "I have watched Thomas now for over 10 years building Genashtim, step by step. His strength of conviction and energy never fails to astound me. His 'Adopt a Teacher' program is a recent example of how he blends his role as a social activist with his role as an entrepreneur where the bottom line does happen."
In 2015, Genashtim was the second company in Southeast Asia to gain B-Corp Certification. Since then, Genashtim made to "Best for the World" among B-Corps for four consecutive years. In 2018, Genashtim was appointed B-Market Builder for Malaysia and Singapore. B-Corp is the most widely recognized international certification for companies that leverage business to do good.
Genashtim started by hiring people with disabilities. How did all this happen? 
When I retired from corporate life at the ripe old age of 47, I was caught by a Garden Leave clause in my contract. I had to stay put in Manila for a year, be on call, and not allowed to do much else. I decided to finally accept one of the many invitations I had, to sit on boards of NGOs. I selected a computer school for the blind, as I was intrigued how the blind would use the computer. I was blown away by their capabilities. But only a couple of the more than 500 graduates had any form of proper employment. I spent two years trying to place them with employers and failed. Realizing that they can work and be productive, I decided to form Genashtim, and hire them myself. We then had to figure out what business we would get into. E-learning seemed like a good place to start, but we were like five years too early. So, it was a struggle for quite a long time.

What are your plans moving forward with regards to making an impact across the globe?

The key to how we do things is that we are not trying to change how businesses work. We set ourselves up to provide high-quality world-class services and products to business and try to lessen their problems. Our clients are mostly multinational companies, and government institutions, who largely are not even aware of the social impact aspect of our business. We have won public tender contracts with various government departments in Singapore, without getting any consideration for being a social impact company.
The world is already short of people with digital skills, and all research and consultancy companies are saying that this is going to get increasingly worse. The good news is that most digital work can be done online and can be done remotely. Hence, we can tap many other marginalized communities e.g. refugees, lepers, ex-convicts (even people who are still in prison), HIV infected, and women in the oppressed environment. 

Furthermore, our work-from-home or from wherever-you-are has an additional impact:

 No commute to work, less consumption of fuel, less emissions, less congestion in the cities
 Employees enjoy comfort, safety, and convenience of working from home
Better quality of life, and with family
Better productivity, as it is not uncommon to spend four hours a day commuting to and from work
What would be your advice to young leaders when it comes to making a difference in the world?
I believe that being an impactful company is good for business. We must look at it that way. We have been running workshops for the Singapore Business Federation to convince small and medium sized enterprises that ESG/Sustainability will future-proof your business. This is based on four pillars – Employees, Customers, Funding and Compliance. So, it is not about changing the world. It is about positioning your business to win in the future.
What does "impact" mean to you?
I look at impact as providing solutions to problems. We like what we do because it is double-sided. We provide sustainable, gainful, and meaningful employment to people who do not otherwise have access, and we use them to solve problems that businesses face.
We are still a tiny little business, but we believe that the impact that we have is deep. People with disabilities
who have never had a job before, have worked for us for 10 years, and have bought houses, cars, etc. From being dependents in their families, they have in many instances become the primary breadwinner. Too often I hear of impact with big numbers, but when you look closer, things are not what they seem. That computer school for the blind, that started this all for me, is an example. They claimed at that time that they have impacted the lives of more than 500 blind people. But for 99 percent of them, the only impact in their lives is that they can use Facebook and surf the internet.