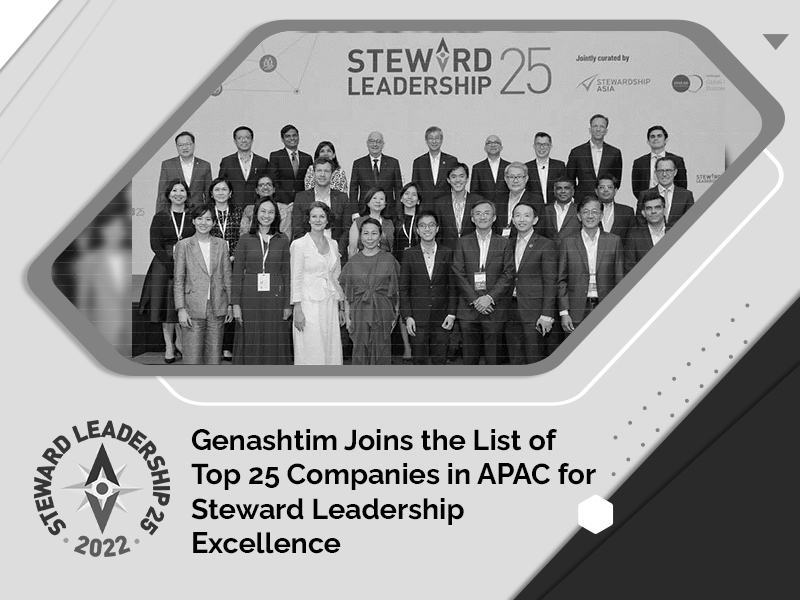 Genashtim Joins Top 25 Companies in APAC for Steward Leadership Excellence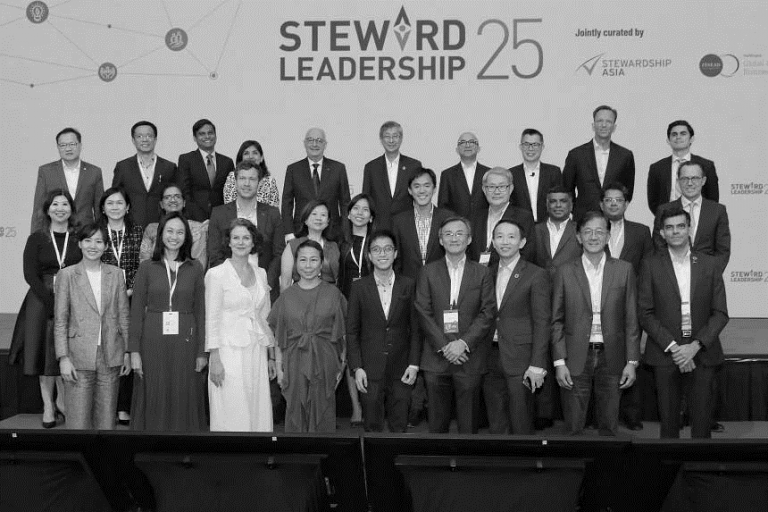 Genashtim Pte Ltd's sustainable business endeavors brought yet another recognition, this time, as part of the Steward Leadership 25 (SL25). SL25 is an annual listing by the Stewardship Asia Centre (SAC), INSEAD Hoffmann Global Institute for Business and Society, WTW, and The Straits Times of 25 for-profit organizations that have shown a dedication to creating a collectively sustainable world where benefits are extended to stakeholders, society, upcoming generations, and the environment.
Founder and CEO of Genashtim, Thomas Ng, his wife, and one of Genashtim's advisors, Willie Tham attended the Steward Leadership Summit where the selected 25 initiatives were announced and feted. The inaugural event was organized by the Stewardship Asia Centre (SAC) at Shangri-La Singapore. The event was honored to have been graced by the Singapore Minister for Education, Mr. Chan Chun Sing who delivered his keynote address to about 350 participants.
Mr. Lim Boon Heng, Chairman of Temasek Holdings unveiled the inaugural list at the Steward Leadership Summit 2022. "A rapidly changing world reinforces the principle of taking ownership to do the right thing and a mindset shift that is critical to driving all of us to work together towards enduring value creation for the benefit of stakeholders, society, the environment, and our future generations. These organizations' initiatives have made a difference, and I hope they will inspire others to act," he shared.
The aim of SL25 is to showcase the best examples of steward leadership in Asia Pacific and businesses within the region who aspire to be listed as one of the 25 narratives. It's noteworthy that SL25 covers large, medium, and small listed firms including private or social enterprises that pursue steward leadership in both strategy and execution. True to the prestige of SL25, 95 applications were submitted out of which 25 made it to the list.
The 25 for-profit social enterprises within the Asia Pacific region are from various business fields and were chosen for their stewarding leadership strategy and actions in creating sustainable economic value. It's notable that all listed 25 initiatives are equally meritorious.
To be included in the SL25 list is a great feat for Genashtim, having joined the ranks of Sunway Group Malaysia, OCBC Bank Singapore, Avtar Group India, and Angkas of the Philippines.
Ever since its inception in 2008, Genashtim has been consistent with its social impact mission and has diversified its corporate social responsibility (CSR). The initiatives by Genashtim that resonated with SL25's listing criteria and contributed to Genashtim's selection within the Asia Pacific region are:
-Empowering people from disadvantaged communities with sustainable employment
-Protecting the environment by reducing the human carbon footprint
-Pioneering a sustainable, pandemic-proof remote work model
-Overcoming the underdevelopment of disadvantaged communities
-Incorporating greater diversity and inclusion in the global workforce
-Addressing economic and social inequality
The honor bestowed upon Genashtim will spur the organization's three bottom-line corporate agenda towards addressing pressing issues through sustainable and responsible business. The company is now more inspired and motivated in its mission to uplift deprived communities, bridge inequality, and preserve and protect ecosystems under the strong steward leadership of Thomas and our board of advisors and support from the staff of Genashtim.